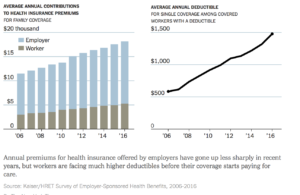 A majority of Americans still get their coverage from the employer market, while the state health insurance exchanges continue to struggle. Analysis by the Kaiser Family Foundation shows that the share of employers offering coverage remained steady this year and the cost of premiums for health plans remained largely unchanged. However, a deeper look into the figures demonstrates that some trends are currently evolving, the most notably of which being that workers are continuing to pay an even larger portion of the medical bills. For the average American worker, the moderate rise in costs creates a more significant impact.
A couple of highlights from the survey illustrates the evolving trends in the insurance industry.
Slow Rise in Premiums
Average family premiums rose an average of 3 percent, similar to the increase in workers' wage. Despite the price increase, this continues a significant slowdown, with prices increasing 63 percent from 2001 to 2006 versus 20 percent over the last five years. Though there is a chance that the slowdown will be short lived and as the economy begins to heat up, the trend could begin to reverse.
Networks Shrinking
Companies are continuing to opt for more restrictive plans that offer less choices for their employees. While employees are still covered if they go to a doctor or hospital that does not belong to their network, they still have to pay more to go outside the plan's network. Though as the economy remains sluggish, employers look for methods to contain and predict costs, which they are better enabled via restrictive plans.
Employers Staying Put
Also, the survey found that the employer health coverage market remains strong despite predictions that the health care law would greatly affect its future. Also, there is little evidence that companies are cutting workers' hours to avoid being required to offer full-time workers health insurance.
With the cost of health continuing to creep more into the wallets of average Americans, the impetus to reform value of healthcare continues to strengthen. While hospitals attempt to lower costs and improve outcomes via movements away from fee for service and other incomplete models, its important that the direct cost to patients is not missed and the insurance industry is also reformed properly and in alignment with the rest of the healthcare initiatives.
Article link: http://www.nytimes.com/2016/09/15/business/health-insurance-analysis-kaiser.html?rref=collection%2Fsectioncollection%2Fhealth&action=click&contentCollection=health&region=rank&module=package&version=highlights&contentPlacement=6&pgtype=sectionfront&_r=0